Susan Sarandon has announced that she's glad Hillary Clinton lost the election because she's 'very dangerous' and America would be 'at war.'
The outspoken actress faced a furious backlash from the left who accused her of allowing Donald Trump to win because she'd refused to vote for Clinton in the US election.
She had instead chosen to back independent Jill Stein, after Bernie Sanders lost in the Democratic primary.
But the 71-year-old says she has no regrets.
'I did think she was very, very dangerous,' Sarandon told the Guardian of Clinton. 'We would still be fracking, we would be at war [if she was president]. It wouldn't be much smoother. Look what happened under Obama that we didn't notice.'
She said that while former president Barack Obama had 'really hard about healthcare' and 'it was very important to have a black family in the White House', she says he deported even more people than Trump – he just did it 'sneakily.'
Sarandon hasn't always been such a staunch Clinton opponent. In 2001, she even backed her for the Senate and posed with the former First Lady during her run.
But that all changed when Clinton voted for the war in Iraq.
Since then Sarandon has refused to support the former Secretary of State – even if that meant alienating herself from her fellow liberals.
She'd been attacked by Clinton supporters online, including Will and Grace star Debra Messing who tweeted: 'Susan Sarandon muses tht Trump prezcy wud b better 4 the country thn Hillary.Wonder if she'd say that if she were poor,gay,Muslim or immgrnt to [sic].'
The pair got into a mudslinging match on Twitter, with Sarandon accusing her rival of 'RT-ing personal attacks' against her before finally finishing the exchange by tweeting: 'Alright @DebraMessing report me to the homeroom teacher and let's STOP.'
Their feud was revisited this year when Andy Cohen asked socialist Sarandon about the incident during an appearance on his talk show in May.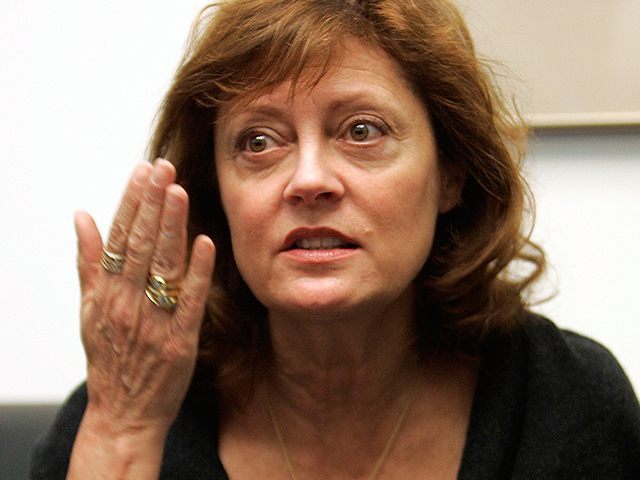 'You know, I think she's not very well informed, so sometimes she gets in areas that she really hasn't thought through,' she said. 'She's Trumpian a little bit like that, so I don't have anything against her personally. I just sometimes I have to say, 'But you don't have the information."
The Thelma and Louise star said she's even had to change her phone number since the election after receiving a slew of violent, threatening messages.
'I got from Hillary people 'I hope your crotch is grabbed', 'I hope you're raped'. Misogynistic attacks.'
She said that when she recently took a stand on Dreamers, a program to allow children who entered the US illegally to gain citizenship, after Trump threatened to revoke it. But when she showed her support, she had another wave of abuse from the left blaming her for not voting for Clinton.
'How dare you! You who are responsible for this!' she said the messages read.
However, Sarandon appears to take it all in her stride.
She says it's 'flattering' that some assume her voice held so much sway over the population but she didn't find the attacks upsetting. And her friends have stood by her through it all.
'It's upsetting to me more from the point of view of thinking they haven't learned. I don't need to be vindicated.'
The actress insists her vote for Stein wasn't a 'protest vote' but she'd told people at the time, 'Get your information, I'm going to vote for change, because I was hoping that Stein was going to get whatever percentage she needed – but I knew she wasn't going to make the difference in the election.'
The Rocky Horror Show has said previously she voted 'by issues: I don't vote with my vagina.'
Comments
comments